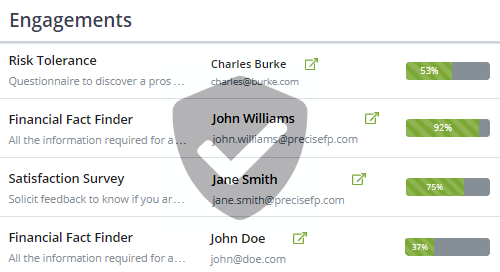 Your data is
secure

with PreciseFP

We take data security very seriously and we are committed to providing a safe and secure platform you can trust.
Data
security
PreciseFP encrypts data on different levels, to ensure the highest level of protection. The encryption of data starts with a secure connection to and from our servers, via 256-bit SSL encryption. Data is further encrypted at rest and stored in secure databases.
Data that you collect with PreciseFP can only be accessed by you and those to whom you grant control. Our development staff does not have access to sensitive client data and our support staff is only allowed to access client data with your explicit permission and only with the purpose of solving issues or bugs.
Physical
security
Our servers are housed in nondescript facilities located in the United States of America. These critical facilities have extensive setback and military grade perimeter control berms, as well as other natural boundary protection. Physical access is strictly controlled, both at the perimeter and at building ingress points, by professional security staff utilizing video surveillance, state of the art intrusion detection systems, and other electronic means. Authorized staff must pass two-factor authentication no fewer than three times to access data center floors. All visitors and contractors are required to present identification and are signed in and continually escorted by authorized staff.
GDPR
compliance
The General Data Protection Regulation requires businesses to protect the personal data and privacy of EU citizens. Companies that collect or process personal data of EU citizens must comply with the regulation or risk fines as high as 20 million euros or 4% of your annual revenue. We address the six principles of GDPR and we are here to help everyone using our solution to be GDPR compliant.
Read more about how we address GDPR here.
Our
security

commitment

We are committed to constantly improve the security of our application. We work closely with external security experts who perform penetration tests and audits on our systems. Our development team ensures that industry best practices are followed with all new features we deploy and all code is reviewed and tested before deployment to production.

In addition, we use a number of different tools that constantly scan our code, servers, and database infrastructure to ensure that the data stored in our system is secure and that, in the event of an intrusion, we are immediately notified so that any necessary steps can be taken.

To request a copy of our security policies and procedures, please contact us.