RightCapital and PreciseFP Announce New Data Integration to Better Serve Financial Planning Community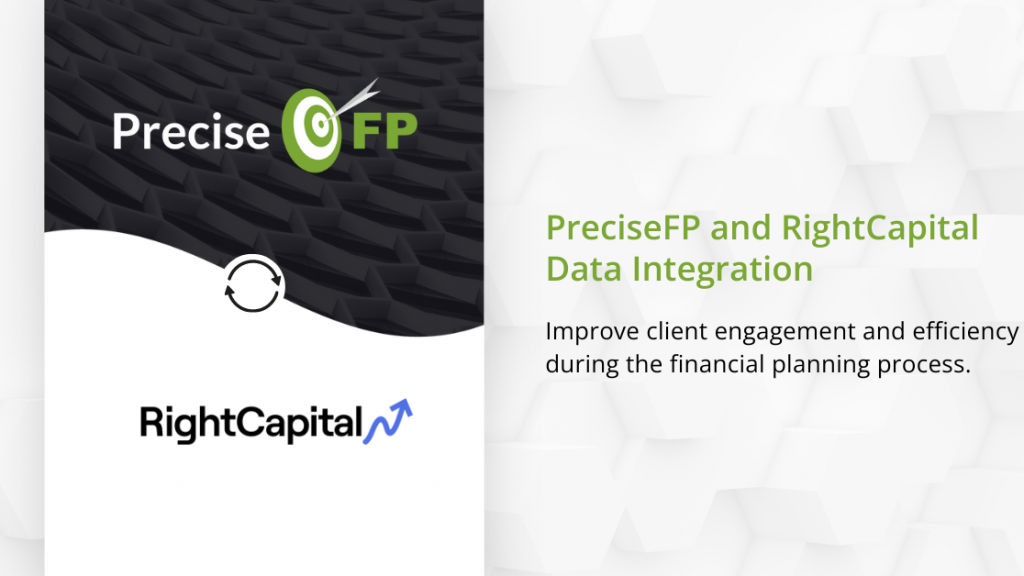 A new API-driven integration streamlines advisors' client data gathering and financial planning efforts by syncing household financial data between PreciseFP and RightCapital
LOS ANGELES – August 21, 2023 – RightCapital, the fastest-growing financial planning software for financial advisors, and PreciseFP, the award-winning client engagement and data gathering platform from Docupace, today announced a data integration partnership. This new bi-directional API integration helps advisors save time and streamline the financial planning process by exporting and importing selected household account data between the two platforms.
RightCapital is a leading financial planning software that received the highest advisor satisfaction rating in both the 2023 Kitces AdvisorTech Study and the 2023 T3/Inside Information Advisor Software Survey. PreciseFP, which recently joined LPL Financial's affinity partnership program, makes manual, error-prone data entry a thing of the past — providing financial advisors with more time to meet with clients, create financial plans and grow their businesses.
Once an advisor enables the RightCapital integration within PreciseFP, they can select accounts to sync household data including Client and Co-Client contact information, family members, income, expenses (export only), and goals. Advisors will also be able to customize how the fields in PreciseFP are mapped to the fields in RightCapital.
"We're thrilled to add PreciseFP as our latest data integration partner to help advisors minimize manual data entry and free up their time to focus on more important tasks," said Shuang Chen, co-founder and CEO of RightCapital. "As advisor tech stacks are becoming more sophisticated, ensuring that RightCapital integrates with the tools our advisors use is a top priority for us."
"Both RightCapital and PreciseFP are the highest rated advisor tech tools in their respective categories in the new AdvisorTech Study from Michael Kitces," said Richard Thoeny, executive vice president – Product Strategy for PreciseFP. "It's no wonder financial advisors have been clamoring for integration and we're delighted to meet this demand."
Upcoming RightCapital and PreciseFP Integration Demo
To learn more about the PreciseFP and RightCapital integration, join Thoeny and Ted Denbow, vice president of sales for RightCapital on Tuesday, Aug. 29 at 1 p.m. EDT, for a special webinar illustrating how to utilize PreciseFP and RightCapital to improve client engagement and be more efficient during the financial planning process.
Click here to register or follow this link to join the live demo: https://register.gotowebinar.com/register/1455386591302012763
For existing RightCapital and PreciseFP users, additional integration information can be found in the RightCapital Help Center and the PreciseFP Help Center.
About RightCapital 
RightCapital's mission is to create Right Plans for Real People™. RightCapital is used by thousands of financial advisors to grow their practices and set their clients on the path to financial success. Founded in 2015, RightCapital is the fastest-growing financial planning software with the highest advisor satisfaction (Source: The Kitces Report – 2023 AdvisorTech Study). For more information, visit www.RightCapital.com.
About Docupace
PreciseFP was acquired by Docupace in September 2021, advancing the company's mission to deliver an end-to-end wealthtech ecosystem for advisors to engage clients and prospects. Docupace is a solutions provider focused on digitizing and automating operations in the financial advice and investment industry. Financial services firms use the Docupace Platform (a cloud-based, integrated software suite) to reduce back-office expenses, improve efficiency, strengthen recruiting, and enhance the experience of advisors and investors.
Docupace is proud to serve some of the largest independent broker-dealers and registered investment advisers (RIAs) in the financial services industry. The company was recently named a finalist in two categories for WealthManagement.com's 2022 "Wealthie" Awards and PreciseFP was the 2021 winner in the client onboarding solution category. The company was named to the 2021 Inc. 5000 list of America's fastest-growing companies; listed as a Top 100 FinTech by Cramer + Associates, named to the Los Angeles Business Journal's 2021 list of "Disruptors", won the 2021 Gold Globee® Award for "Hot Technology of the Year", and included in Industry Wired's Top 10 list of Most Recommended FinTech Solution Providers in 2020. For more information, please visit www.docupace.com.
Docupace Media Contacts:
Ryan George
Chief Marketing Officer
Joseph Kuo / Donald Cutler
Haven Tower Group
jkuo@haventower.com / dcutler@haventower.com
RightCapital Media Contact:
Annie Ahari
annie.ahari@rightcapital.com