PreciseFP is designed to digitalize each stage of the customer lifecycle. We automate workflows in order to make your life easier and improve the client experience.
LEAD GENERATION
Capture leads with a couple clicks. You can easily create a button, banner or screen bar on your website and link it to marketing content to help you engage prospects and win new clients.
CUSTOMER ACQUISITION
Creating new accounts is super easy. Send your new clients appropriate documentation or a proposal generation agreement from the Forms Library and use our eSignature feature to have them sign-off on it.
DIGITAL ONBOARDING
Onboard new clients fast. Automate your fact finding and data gathering process, and spare your clients the dread of paperwork. Clients are able to enter their information on any device, anywhere at any time to create a KYC compliant Investor Profile.
SHARE DATA
Gather, store and securely distribute client information online. The data is securely stored in the system and can be electronically transferred between your CRM and countless other software products, flowing directly into a financial plan or account opening process.
UPDATE RECORDS
Update client information in real time. When it's time to collect and review data, just send new forms to your clients. We pre-fill them with the data that was previously provided, so there's less work for your clients. An audit trail logs all entries and changes.
STAY CONNECTED
Maximize retention rates by being relevant. We help you stay connected with clients year round to ensure customer satisfaction and loyalty. Customizable email templates allow you to personalize messaging to focus on what matters to them.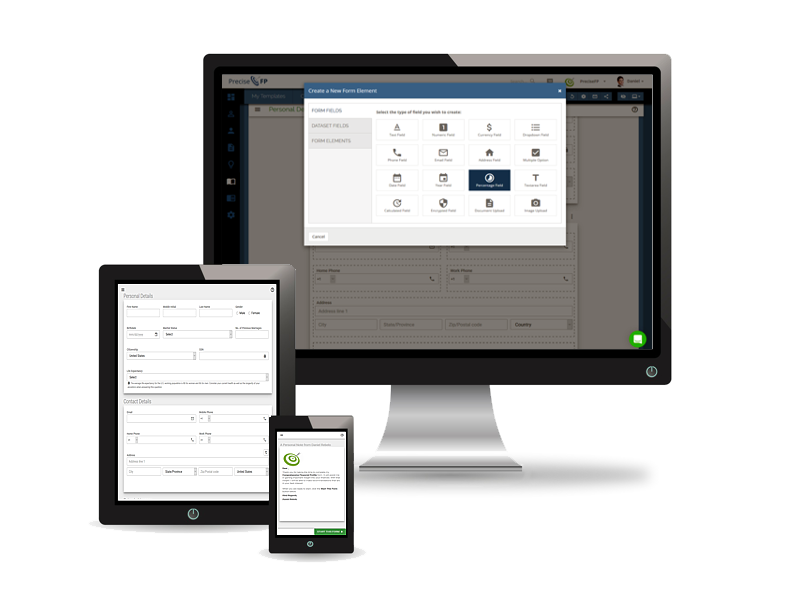 Discover how easy it is to get started
Our extensive Template Library holds loads of commonly used digital documents. You are able to choose from any number of standard templates or you can build a customized version to suit your specific needs. The platform is incredibly versatile so you're not stuck with one-size-fits-all limitations. You can even add your company logo to promote your brand.