In today's fast-paced world, data-gathering is vital to a financial advisor's success. To stay relevant in the age of automation, you must be able to quickly and securely collect, analyze, and store your client's financial information.
By working together with our users, we identified four key areas of the data-gathering process that deserved advisors' attention and used that feedback as the basis for the Dashboard redesign.
Prospects section: Your lead-capture success monitor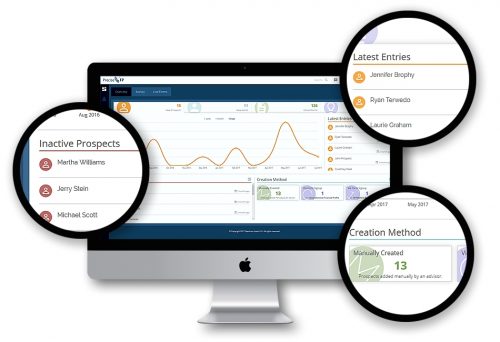 PreciseFP is the ultimate prospecting tool built specifically for financial advisors. With the new Dashboard, you have access to several indicators that can reveal problems with your prospecting process, allowing you to further fine-tune it.
The main function of the Prospects section is to show you the evolution of your prospecting success over time. This can be seen in the main chart and in the panel to the right of the chart.
At the bottom of the screen, you can see a list of prospects that have not been updated in the last 30 days. These stale prospects needs to be engaged with another PreciseFP engagement piece (perhaps in the form of a freemium?), so that they can ultimately be converted into clients.
Finally, the bottom right section gives you information about the origin of your prospects (i.e. whether they were created via a form, import, or manual creation). With this information, you will be able to see which engagement forms are responsible for bringing you more prospects. You will also know which engagement forms might need some tweaking in order to improve their effectiveness.
Clients section: Your client pipeline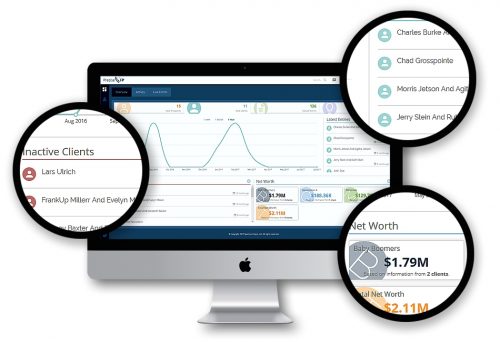 Because the success of your practice is directly correlated to your ability to convert prospects into clients (and retain those clients), we designed the Clients section of the Dashboard so that you can build on your success.
The chart and the panel to the right show how many clients are being added over time. The list on the bottom left shows your inactive clients that you risk losing unless re-engaged soon. And finally, the panel on the right shows the breakdown of your clients by age category and total net worth.
Forms section: Client engagement metrics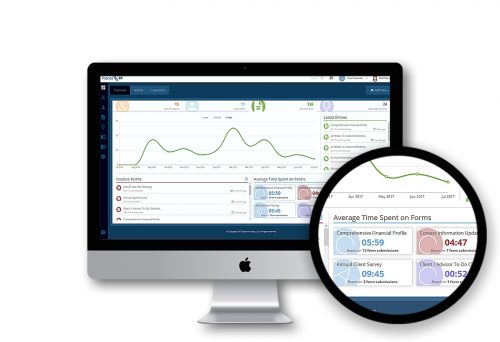 Because data-gathering is a two-way process, having the ability to review your client's efforts is crucial. The closed forms section gives you insights into how your clients are engaging with the forms you send out.
The average time spent on forms is a powerful metric that you can use to uncover potential problem engagement forms. If clients are spending too much time on a form, it might mean that it is too complex or too long. If they are spending too little time, it could mean that the form is unappealing or that the form's subject doesn't resonate with your client base. Either way, you will want to investigate and potentially make changes to ensure optimal engagement.
Opportunities section: Signs of incomplete or inaccurate data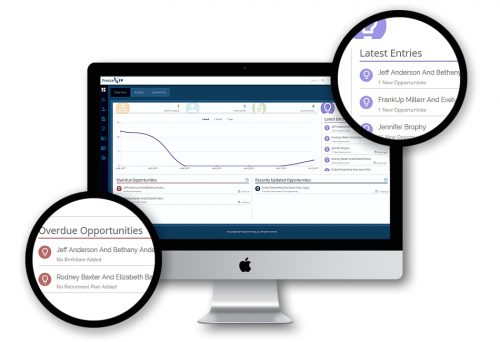 Your time is precious and we try our best to save you every minute. The new Opportunities section of the Dashboard was designed to give you an overview of possible issues with your client's financial information.
Opportunities are a flexible way to leave notes on your clients and prospects that can be used later by you or by anyone else within your company. We've created 20+ automated opportunities that will be triggered for each of your clients and prospects every time their profile is updated with new information. Such triggers might include items that are missing (EX: no LTC insurance), or other conditions that you want to be alerted of (EX: Prospect has investable assets greater than $1 million). At the top of the Opportunities section, you have access to the most recent opportunities created and at the bottom you can view inactive and overdue opportunities that should be reviewed and handled as soon as possible.
PreciseFP provides you with the tools for your Lead-Capture efforts, Client Retention, Client Communication, and Data Analysis. We hope our new Dashboard will save you time in these areas and help you take a more fiduciary approach with your clients. Ultimately, your goal is to grow your practice, and we at PreciseFP will keep looking for the best ways to help you to achieve that goal.