The biggest development with PreciseFP 3.0 is the ability to customize forms from the ground up.  When we provide demonstrations, the biggest question is how to do this:
To see the groups/modules that we currently have loaded into PreciseFP 3.0  you can go to Settings > Data Set.  Each one of these groups can be customized and added to a form to gather data
The blue toolbar that runs up and down next to them to the left is the fields toolbar.  To add a field into a group, click the name of the group that you wish you add it to.
This will open the group and reveal any fields that are currently in it. You can edit any of the fields in the group by clicking on the field you wish you edit.
Here, I'm adding a file field (the piece of paper icon with the corner folded over) into the Employment group. This will allow my client to submit a file that I require from them onto the form once I add this group to it.
Once I hit create, this new field will go to the bottom of the group.
This will now be a part of the Employment group.  You can see it immediately by going to Clients > Select your client > Current Data.
As an advisor, if you have any of this information on your computer, you can upload the file(s) into this field right from the clients dashboard and once you send it to this client it would automatically be a part of the form for the client to see. They can also add additional files here if needed.
To create a brand new group, click on Settings > DataSet > Add Group (button)
From here, you can give your group a title and provide the scope for it.  Scope pertains to who this group will be requesting information from. For example: I only want to gather information for this group just for my client and their spouse so I am going to pick Client.  If I wanted this information from my clients household members then I would choose Household as my scope.
Once I hit create this new group is going to go to the bottom of my group list.
To start building into this group click on the name of it so that it opens.  You can then select fields from the field toolbar.
Once you've created the group to your liking you can now add it to forms.
To create a brand new form you can go to Forms > Forms > Add Form button
You can give your form a name and a brief description that your client will see.  Then you will need to choose the groups/modules that you want use in this form.  You will see the groups that are already in PreciseFP 3.0 as well as any that you have created.
Once you've selected the modules that you want and given the form a name and a description if needed, click on the Add Form button.  This will open this form in the form editor.
Here you will see all of the fields that make up the modules that you selected.  Each field can be customized by moving it to a different location, making it larger or smaller, renaming it, making it a mandatory field or removing it from the form.
When you are satisfied with your form click on Forms again from the top navigation toolbar.  You will see the form you just created/edited in the Drafts.  In order to be able to send this form to a client or publish it on your website you must click and drag it over to the Published side.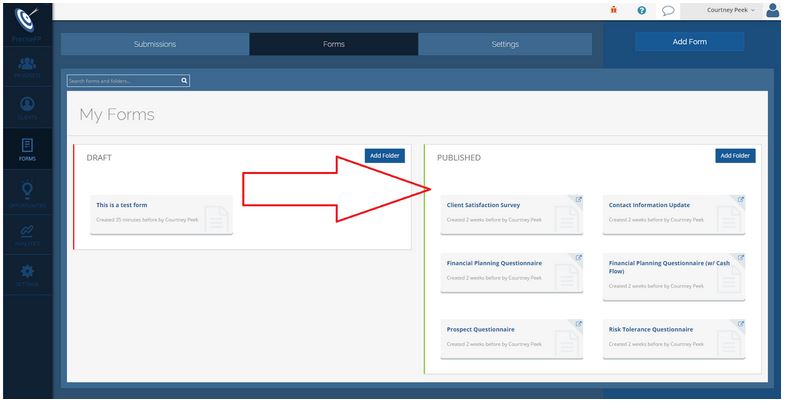 The possibilities to create your own form(s) to gather data in a way that works for you are endless.
As always if you have any questions, comments or concerns please let us know at support@precisefp.com
-Team PreciseFP