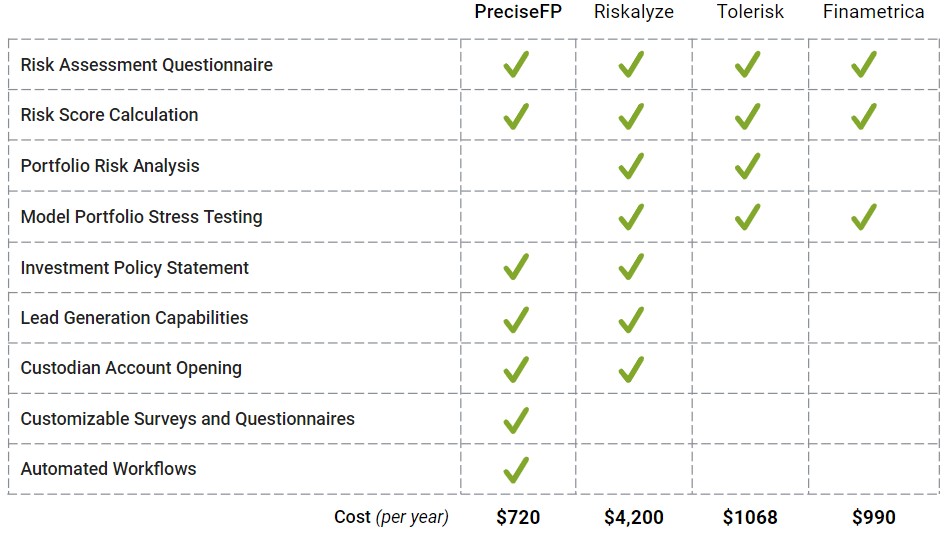 The above chart speaks for itself. PreciseFP offers a scientifically-validated risk tolerance questionnaire that meets the needs of most advisors – plain and simple. Yet, it costs less than solution providers that only do risk tolerance. And PreciseFP does so much more than just risk tolerance.
Here's what some of our advisors had to say:
"I love the fact that your RTQ has 13 simple questions. Our clients get a risk score and, since we use PreciseFP's IPS, that score flows directly to the IPS. We then use the e-signature feature in PreciseFP for a complete solution."  David R.
"We were using PreciseFP for data-gathering and on-boarding already. For us, not having to send clients to yet another logon screen just made a lot of sense. We cancelled our other RTQ software service." Rob S.
We are increasingly being called the "Swiss Army knife" of advisor fintech. There is no denying that we are delivering more value to advisory firms, both big and small. Here's just a sample of some of the features our platform has to offer:
If you haven't checked out PreciseFP, or if you are a user who is not taking full advantage of all that PreciseFP has to offer, I encourage you to take a deeper dive. For as little as $60 a month, you can offer clients and prospects a world-class engagement experience while simplifying your firm's processes and becoming more efficient at what you do.
Sincerely,
Don Whalen, CFP®, CEO